Published by surfbirds on April 19, 2013 courtesy of surfbirds archive, Wildfowl and Wetlands Trust
Peter Cranswick, Head of Species Recovery writes: The Madagascar pochard, arguably the rarest bird in the world, has bred successfully in captivity, building hope that it can be saved from extinction.
Eighteen pochard ducklings are currently being reared at the specially-designed rearing centre in Antsohihy, Madagascar. This marks a significant step for this Critically Endangered species, which numbers just 22 in the wild.
Our researchers studying the wild population have reported that just two or three of the ducklings that hatched in the 2011/12 breeding season have survived. It's a similar situation to previous years.
The wild population is restricted to Red Lake, a small lake in northern Madagascar, making the whole species vulnerable to extinction from single catastrophic event, such as a disease outbreak or pollution. It was this dire situation that prompted our emergency expedition in 2009.
With the blessing of the local community, experts from WWT and Durrell Wildlife Conservation Trust took eggs into captivity to set up a breeding programme. The ducks hatched from those eggs are now two years old and it is these that have bred for the first time.
Conservation breeding is just one part of a complex conservation plan. As well as providing insurance against extinction, it will enable us to release birds on other lakes to expand the population.
So, in tandem, our scientists are studying the remaining wild birds to work out the reasons behind the species' decline and determine the right conditions for releasing birds into the wild.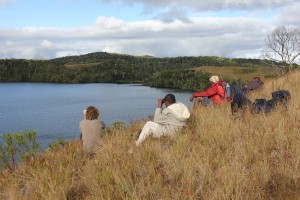 Dr Andy Bamford, a WWT researcher, has been in Madagascar studying the wild birds. He spent half a year alongside colleagues from Durrell and The Peregrine Fund in 2011, observing the pochards, and is due to return to Madagascar shortly.
Andy writes:
When a species is close to extinction, its last hiding place can literally be just that – the last place it would choose to hide. It appears that is true for the pochards. They are surviving on this lake because it's so remote, but it is far from ideal for them.
Our initial investigations suggest there is too little food. Few ducklings are surviving beyond a couple of weeks and I suspect that they simply don't have the strength to dive as deep or for as long as the adult birds in order to get to the invertebrates at the bottom of the lake. They are literally starving to death.
We are conducting our search of lakes and wetlands far and wide in Madagascar – both to look for pochards, but also to find sites where we can release them. We have identified some where the physical conditions are potentially right for the pochard, but a crucial factor will be whether the local community is supportive of the project.
Madagascar is an extremely poor country and if you live by a lake you may well survive on fishing. We suspect that uncontrolled fishing is in part behind the decline of the pochard nationally. As they dive for food they are susceptible to getting caught in nets below the surface and then drowning. Any reintroduction programme will therefore have to be carried out with the support of local communities – to ensure that people, ducks and other wildlife can co-exist happily.
This will be no mean feat, and the many and considerable challenges that lie ahead are daunting – but we are greatly encouraged by our successes so far.